Der letzte Widersacher und sein Untergang
by
Trondheim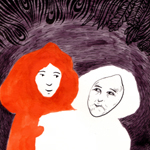 Liner notes
As a Christmas present, Interdisco gives you music which could be seen as a perfect soundtrack for sitting in front of a cosy chimney watching the crackling fire, take a walk through lonely snowy landscapes or just watching the deserted streets through the window. Not without the presentiment of a clubnight which might be up to come.
Trondheim is Ansgar Seide, hailing from Münster (Germany) and produces fragmented electronica with lots of melodies.
Zu Weihnachten schenkt euch Interdisco Musik, die sich ausgesprochen gut als Soundtrack eignet, um dazu vor dem gemütlichen Kamin zu sitzen und dem knisternden Feuer zuzusehen, Spaziergänge durch einsame, verschneite Landschaften zu machen oder einfach nur zwischen den Tagen durchs Fenster auf die toten Strassen zu starren. Nicht ohne Vorahnung, dass daraus
vielleicht noch eine Clubnacht wird.
Trondheim ist Ansgar Seide aus Münster und macht feinteilige Elektronika mit vielen Melodien.
Tracklisting
More info about Trondheim