Binary Boy
from
Toronto, Canada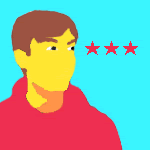 Binary Boy got the jams for you. Fierce beats and distorted vocals make up his delightfully thrashing political anthems. The delivery is so straight in your face, it's fucking magical! He's simple, he's dogmatic, he's Binary Boy. Be a human being and fucking break it out to the friendly thrash of Binary Boy!
Die Musik von Binary Boy basiert auf Krach, und seine Texte sind politisch, natürlich auf völlig dogmatische Weise. Die Beats sind schnell und ein bisschen unflätig, die Harmonien rudimentär und das verzerrte Rauschen ist der Gesang.
Sei ein menschliches Wesen und schüttel alles, was du hast, zum freundlichen Lärm von Binary Boy!
Releases